You have to go to Test Color and take the -personality test. I can't believe how it actually pin-pointed me! Shocking. Go, check it out. It's fun! Those of you who KNOW me, let me know if YOU think it's correct!!
Your Profile :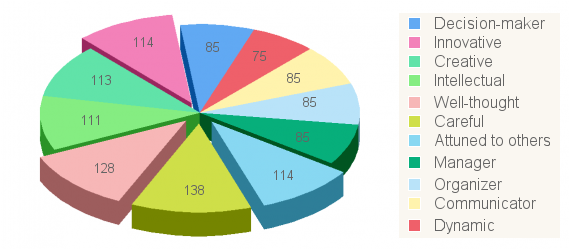 You are 54 % extrovert and 46 % introvert.

Independently of any order of importance :
You are dynamic, your actions are only directed by your own
will and you know how to lead people.

You are also intellectual and intelligent, you wonder and
you inquire before taking any action.

Finally you are a manager and a structured person,
you know how to take into account the needs of each
person while leading them towards the set goals.
Your understanding of your environment :
At first, at 37%, you are centered on your thoughts and your
actions are determined by your knowledge and your experience.
Then, at a ratio of 33%, you are focused on the facts and on the reality,
and your decisions are determined by your perception of facts.
Finally, at 29%, you are attached to moral values and feelings, and you have
an emotional relation with the environment.
How you assert yourself :


In your relations with others,
your point of view and your
decision-making are motivated by your inner conviction at 50%.
Dialogue and exchange of views
with others are taken into account at 49%.
Also, your actions are determined by your will and your personal goals
at a ratio of 56%. In 43% of the cases you take into account
your own sensibility and your partner's.


Finally, the bonds that you created with your family and friends
represent 54% of your core emotions. Your creativity, your
openness and your need to open up to renewal
in your life have also an impact of 45%.


The qualities that characterize your personality
at this time :



Your dynamism

you are dynamic

and active,

you are determined in

your actions, you know

how to communicate your

ideals and your energy,

and thus, you know how to

boost people.
Your intellectual performance.

You are intellectual and

intelligent, you wonder

and you inquire before

taking any action and

setting your values.
Your energy.

you are strong-willed and

active, your actions are

determined by your

own will, by the goals you

settled to yourself, and by

your need to

act and move ahead.
Your contact abilities.

you are open and a good

communicator,

you know how to attract

people and engage them.



Your insights.

you are thoughtful and deep,

you think before getting into

action and you know how to

communicate your knowledge.
Finally, you are a manager and a structured person, you know how
to take into account the needs of each person while leading them
to the fixed goals, you are a creative person, with always new ideas,
and you know how to apply them.