I hope you enjoyed this little video. It is so true! I heard it for the first time last year. You cannot, positively, absolutely, have CHRISTmas without CHRIST! He is definitely THE reason for this season.
Back to "regularly scheduled programming."
I am still busy. DID NOT get my Gumbo started yesterday. I did make an awesome dinner! My son said to me, when I walked in from exercise, "This dinner is InSaNe! I'm on my 3rd helping!" Now, I just threw together, and I do mean "threw" together, a Mexican-style Lasagna. It had enchilada sauce, rotel, black beans and shredded chicken! I layered it with corn tortillas until I got to the top layer. There I used, flour tortillas! Topped it with LOADS of cheese and baked for 35 minutes. It was okay. But hey, if he liked it, then GREAT!
I went and did an "Ab" class. Thank goodness it was only 30 minutes! My WORD! And I planned on going work out again the next morning! Just what was I thinking? Well, I did go and work out. I don't know HOW I am moving this morning? The next "Ab" class will be Wednesday morning at 8:30. That will work for me! I'm off, so instead of going at 6 a.m., I can go later, do a little cardio then do the class. Well, that's the plan. Hope it works out!
Look at this picture of "Riley Dog." He was all stretched out on the sofa on/off/side of my hubby!
This is why we named him "Riley", for he has the Life! He is such a mess.
I made a little "Gift Card Holder" to put some money in it for one of my friend's kids. We pick names and I got her boys and she has my son and my neighbor's 3 girls. My neighbor has my daughter and her 2 girls. It has been that way for many years. Less expensive that way!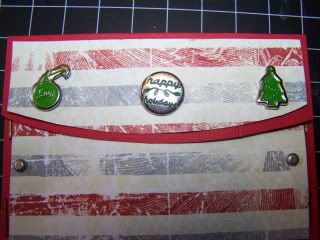 It might be too big, but you get the idea!
Well, gotta go. I NEED to get busy!! Blog ya later.............