I participated in Erin's "Creative Adventure II" last night. Now, on Friday, she gave us the first step, which was interesting, but good! This is the 2nd time I participated in her projects, going in, BLIND! Totally trusting whatever she has up her sleeve. A few weeks ago she gave us a "list." These were items we were going to need for this "project." We get half way thru it and we STILL are not sure where we are going, but at this point, I'm vested. I'm in for the final. I was definitely going to FINISH this project. Last years is done. I just don't have the pictures in it!
Anyhow, I will link her project in my blog a little further down. It is definitely worth doing. We had to choose something "Transitional" in our lives. Erin chose, being a "First Time Mother." Not quite my thing, for well, my baby is 12 and I can't remember that far back!! I chose, "Childcare." Okay, not too far from Erin's, but, I plan on "retiring" in May and I thought, what better topic?! I had a picture of me that I turned into black and white and that became my "Subject" photo. I won't go into the details, for I will post the link, but here is my "Time Capsule"
Okay, it's not as "stainless" as this, in fact, I think it looks much prettier!
This is the front cover.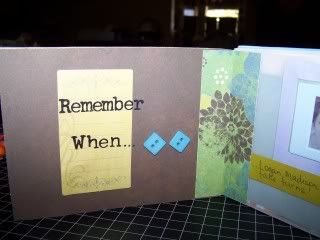 Inside Cover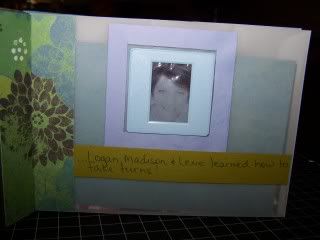 First page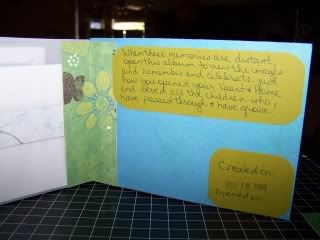 Inside back cover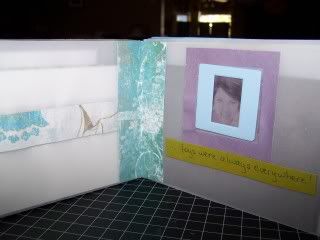 another inside page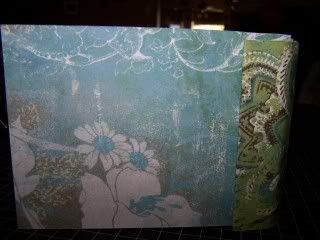 And that is the back cover.
Here is the
Link
. Erin has EVERYTHING there from the materials you will need and the videos to the actual Videos of the project! Go out and get what you need. I think you will be pleasantly pleased. I am. So much so, that I think I will do a High School one for my daughter with some "key" events from each grade!
Now, on to the rest of my weekend. Went out Saturday. Plan was to find a dress to wear to a wedding the day before Thanksgiving AND the Saturday after! Yes. I have 2 weddings that week. 2 very different families, so I won't see the same people at both, therefore, have no problem getting ONE DRESS! LOL Oh. didn't get a dress. Got a haircut instead. It was easier. What can I say? I still have another weekend to at least get in the mood. I still have to make my grocery list for Thanksgiving. I still have time. Well, I do!! I do have to at least get my Gumbo made next weekend and prepare what I can since I have a wedding to go to on Wednesday!! Sunday I played Volleyball. and more Volleyball. and some more! We started a little after 9 a.m. and didn't finish until 3 p.m.! Came in 3rd. I was/am, just a sub. This time, I played on the "A" net! Top Dog. Last time, we were on the "B" net, won, which got them to the "A" net! They will remain there. Bottom 2 move down and the Top 2 from "B" move to "A". I am a little tired and just a little sore. But I think it is because I am starting with a "Sinus Infection." I tossed and turned last night. I was congested on one side. I am still fighting a headache. The Tylenol Sinus is NOT working!! Have to go out later and find something else.
Friday night, was our last Volleyball game before "Playoffs." joy. We ended up losing all 3! really. don't know what happened. "The Woman" said she would call to let us know what time we play next Friday. She did. 9:15!! Looked at the Playoff Schedule and it just doesn't look right. My hubby did not ask what our "Standing" was. We were thinking, okay, since the 3 forfeited games and the 3 losses on Friday, we would at least be in 2nd place, maybe 3rd. But according to the schedule, the 4th and 5th place teams play at the time we are playing! Mathematically, it doesn't compute. I'm done. I don't care anymore. I really don't. I'm too competitive to play in this particular league. We are looking at another league, but I think they have started and it interferes with our current one. I'll keep looking. Hubby wants to play. I have to find a "Mixed League."
Well, I am a little hungry. Cooking Red Beans and they smell soooooo good!! They aren't ready yet. That'll be dinner. Have a good day. Blog ya later............