Woo hoo! Aren't you excited! Really? No? Okay, I understand. That is my plan for today. I have both of my kids home from school today. I didn't make them go. Now, they will, unfortunately, be marked "absent" today, which I think is dumb, but hey, who am I to argue with the school system? I mean, these are "make-up" days from when we had to evacuated for Hurricane Gustav! They were already absent once. For a week. Oh well. No sense in beating a dead horse.
My cooking plan today is to boil the potatoes and eggs for the potato salad and to start making the pumpkin cheesecakes. Tonight, I'll check to see if the Turkey has fully defrosted. If not, I will place into the sink with cold water. I want to inject and season it. I plan on cooking it Wednesday night! I'll let you know how that process goes.
Last night, I was "forced" to go into the bedroom and use the desktop computer!! Hubby was watching the Saints game. WE WON!! Anyway, I was trying to work on a digi layout. I tell you, I have NOTHING digi on that computer! I have some "bits & pieces", but the majority of my stuff was stored on my external hard drive that I carried from desktop to laptop. I really, really REALLY need to see about getting my stuff off of it, onto a new one!! Anyway. This is what I created: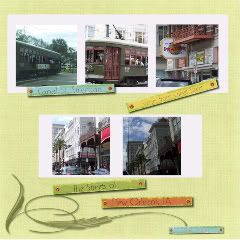 A few months ago, the kids and I, along with my sister, headed downtown for the "French Quarter" festival. Well, it was SO crowded, we couldn't even find a parking place!! So, we drove around. We actually ran across and area that was partially blocked off for a "Film Crew!" There have been LOTS of activity like that going on in our city! Above, in the layout, are some "random shots" that I took. One day, I do want to be a "Tourist" in my own city. There are so many sights to see. I hope to get to City Park for "Christmas in the Oaks" this year. Last year, was the first year, since Hurricane Katrina in 2005, that it was opened! So excited.
Anyway, I used some digi stuff I had on the desktop for the layout. It's very simple, but it is ON A LAYOUT! Appropriately titled, "The Streets of New Orleans."
Well, gotta go and get busy. I'll Blog ya later................