I've got NOTHING!! It's been rather "quiet" around here lately. Like the "calm before the storm" feeling. I've not gone to the grocery. I've not prepared my grocery list. I've not prepared my "cooking schedule." I've just NOT done ANYTHING!! Well, I did manage to whip out a few more cards and even those aren't as good as the first set. Shouldn't have stopped the first time. Should've kept going.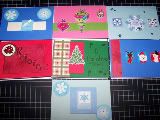 Told you. Not the greatest. My son likes the Christmas Tree one. Not sure why.
Had Bonco last night. I finally got some Boncos! It's been a couple of months since I've gotten ANY! I got 2. The Winner got 3. I won 2nd place, $20. Made $10. not bad. It'll go towards Thanksgiving groceries! =) We tried to choose a date for our "Holiday Couples Bonco" and did decide on the 19th of December, but, I've been awake since 4 a.m. because I realized I can't do Friday because of Volleyball and the fact that 1/2 the team would be missing!!! It is "Playoff" time and we CAN'T MISS!! This is the "most wonderful league we are playing in" right now. hrumph. mmm. okay. If you buy that, boy have I got a deal for you!!! But seriously, me, my hubby and brother in law play and we are all part of the "couples" thing for Bonco. Saturday night would be better anyhow. Either way, someone won't be there! I think in ALL the time we've been doing this, we have not had all our "original" players there. Probably has to do with a "Newton's Law!" Go figure.
I have a Volleyball game tonight. It is a playoff game and I
think
if we win, we win 1st Place!!?? Not sure. I'll let you know about that, too.
Well. I have a perspective new "Parent" coming to meet me today. She just had a baby a few weeks ago and knows I plan on "retiring" at the end of May. She would only need me from January until May, when school lets out. She is a teacher at the high school my daughter goes to. Volleyball coach AND Physical Education teacher! Daughter hasn't had her yet. Might be next semester. My friend's daughter did. Liked her. My friend said she was younger than we and was pregnant still when she met her! So, we'll see. I do but I don't want another child, especially a baby. But then again, no attitudes yet and bad habits, so there is a plus!! Another thing I'll let you know about.
You notice that I changed my Blog? Again! I was bored. It'll probably get changed. Again.
Well, gotta go and pick up my scrap stuff and put it all away. Time to start cleaning and putting away things and washing things for Thanksgiving! I work well under pressure. Seriously. Really. I. Do. Ask anyone. They'll tell you! Have a great day and I'll fill you in on all the details tomorrow! Blog ya later =)