... for our 1st Scrap Buddies Happy Hour! We will be paralleling with CKMB's Happy Hour. Although, the next one, might have to change our name of it! We will be discussing what they're discussing! I might even have a "contest" or two! ;-) Come check us out. "Oreosmom" wanted to break our record of most people on line at one time, which was 7! I think this will be a great opportunity to do so, don't you? Come check us out! If you're not a member, no matter. JOIN! I don't think you'll be disappointed! We are just a group that has a hobby of scrapping, whether we're creating "Memories" for our future families or creating Cards to send out! We share our inspiration with each other. We support each other! Just another place for us to "hang out." Hope to see you there!

Now, let me show you what I created: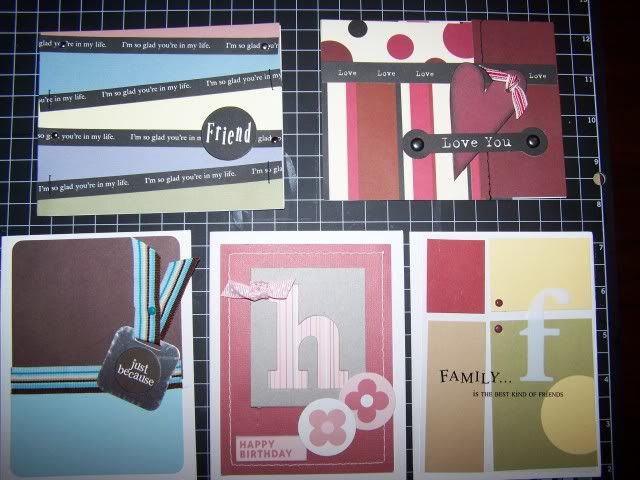 I received something from CK Media that I ended up returning, but I kept this "Scrap Goody." I was going to throw it away, but thought better of it. I don't make cards. They intimidate me. I've seen and received some beautiful cards and KNOW I don't hold up to them. But this was easy. All I had to do was follow the directions! How much more simple could it be? Some of them are just a little crooked! But they're cute, huh? Thanks. (blushing)
Well, need to get some things done so I can join our "Happy Hour" tonight.

By the way, I am hosting a "Weekly Challenge" on Scrap Buddies message board. Take a look:





Let me see what you come up with! Post on the "Scrap Buddies" message board under the "Weekly Challenge" thread, and you'll be qualified for a small "RAK" I'm giving away next week!! I'm just saying!

All right, gotta go. Need another cup of Java! Have a GREAT day! Blog ya later.............