Well, good Monday morning! Well, weather wise, it's not so "good." Very overcast and rainy. Supposed to be having a "cool front" come thru later this evening. YAY!!!
Let me show you some pictures I took of the sky Friday night! Very pretty. Although, it was still "breezy" and even cloudy. My dd came in and asked me to take the pictures! SHOCK!!! She even mentioned, "you can put them on your blog." DOUBLE SHOCK!!
Anyway, here they are: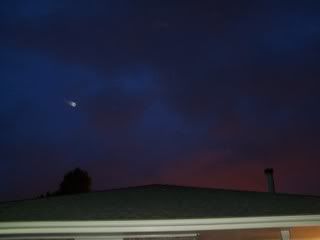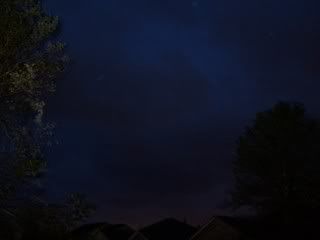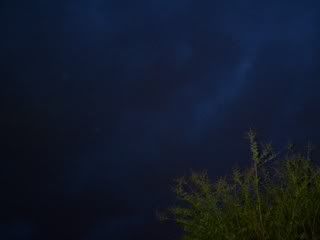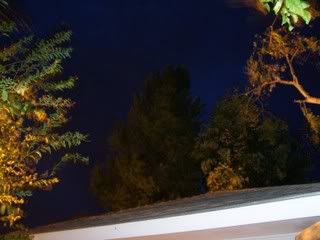 These were taken at Dusk. Pretty cool, huh?
My poor weekend FLEW by. I can't even remember what I did. I did go to church Saturday evening. Too funny! We went out to eat at this new restaurant called "Mojo, New Orleans Cuisine" It was "okay" but too overpriced. Probably the last time we'll eat there. I did watch a good movie over the weekend, "Martian Child." John Cusack starred in it as a widow who may possibly adopt a 6 yr old boy. Very different, very heartwarming! I enjoyed it. Also saw "Enchanted" yesterday! Now,

THAT

was a very different movie. It was enjoyable for a Sunday afternoon. I had decided to "catch up" on some movies I didn't get to see, on HBO/Starz on Demand. There are a couple more, so, they'll have to wait. I just hope they are still there when I get to actually sit down and watch!
Kind of a quiet day today. Not really a lot going on right now. I did print out the 8x8 layouts of Lexie's Disney trip and place them in the album I bought at Archiver's. Her book I had printed at Shutterfly, should be here by the end of the week! That is hers. The album is for Mom. She saw the "preview" of it on Shutterfly Blog. She thought it was too cute! I'm glad. Can't wait to get it in my hands and see for myself. I'm excited! Never had one printed before. I hope it comes out nice. Okay, better than nice! I will keep you posted.
Well, think I'm going to get a cup of coffee and finish up the laundry while the 2 chikens I have today, nap! Enjoy your Monday. Blog ya later...............