Oh, who am I kidding, it was down right HOT!!!! Not a rain cloud in sight.
I took a trip to Target this morning. They had a 4 qt. Rival Crockpot for $16!! Two colors to choose from: Red or Black. I so wanted the Red! I get there. No choice. Only had 2 Black ones left! Oh well! It goes with my kitchen. It's an oval one. I like that is has a "warm" feature, instead of "Off, Low & High." Passed thru the SB aisle. Nothing. No Sale. Nothing to "jump out" at me. I even browsed the sale ad for Mike's. Nothing there for me too! Guess I need to take that as a hint to work with what I have!!!
Went to the grocery. Only picked up a few items. I hate going without a list. Without planning my meals first, then shop for the items needed. I did need to buy milk, but I passed. Can't believe this store had milk for $4.99/gallon!!!!!! That is obnoxious! When I left, I wanted to make a U-turn and go to the store across the highway that sells it for no more than $3.99/gallon. He has too many elderly customers and feels that if it was over $4, they wouldn't buy it, therefore not getting other items as well! My goodness, there are still wonderful people in this world! I'll go out tomorrow after I finish at my son's school and get more milk. At least I know WalMart sells it for $4.69. I know. It's still close to $5. But it's something about seeing the 99 cents that makes you round up!!!
Here is my PAD for today. My DH cut grass today and cleaned up our yard. Okay, my dd got out there and cut the grass!! Hubby laughed and said, when I was taking her picture, "You better get proof of her doing labor!" He's too funny. at times.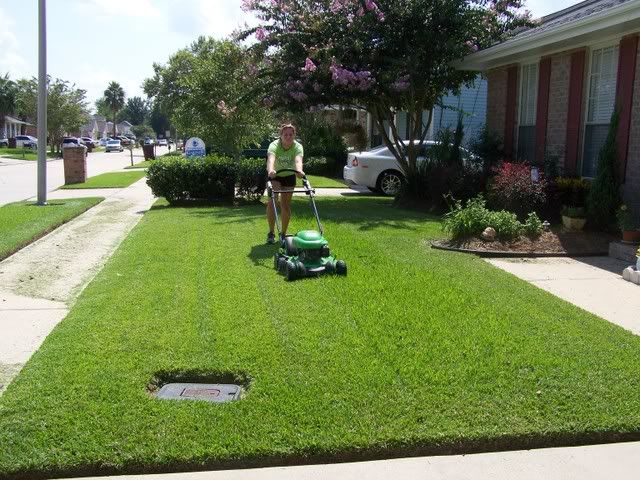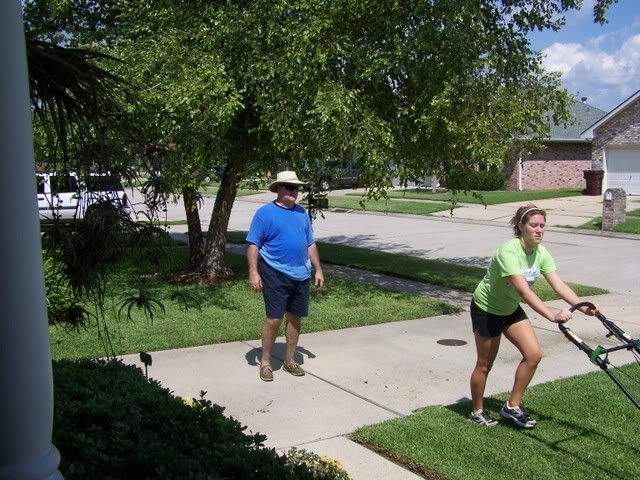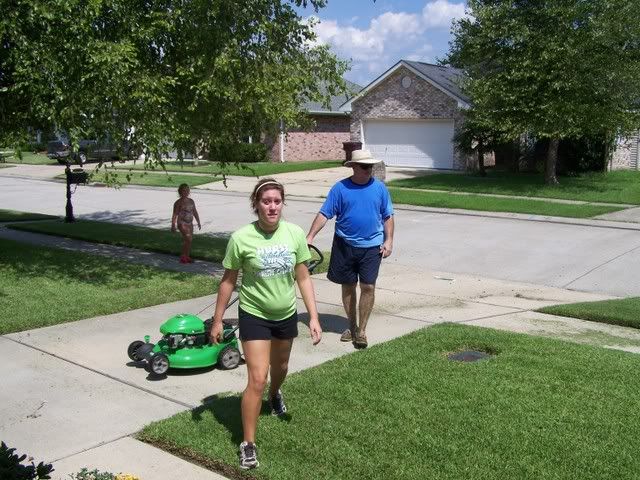 "That's it. Done. You can put it away!" She is too funny!!

My last day of vacation. Well, technically, I have tomorrow, but Lex will be here. Guess she is going w/me to the grocery. Not that that is a problem. She doesn't care. She goes wherever. Tuesday I'll be back in "full swing" with the chikens. Oh BOY!! Only kidding. I had a good week without all of them, so I'm refreshed and ready to start a new school year. Really. I am. Seriously. Why do I have to convince you? ME? Nah, I'm convinced. Almost. ;)
Well, "Army Wives" is about to come on. Need to finish loading the dishwasher and clear up anything else that needs clearing, so I can watch in peace. You guys have a great night and I'll Blog ya later.......................