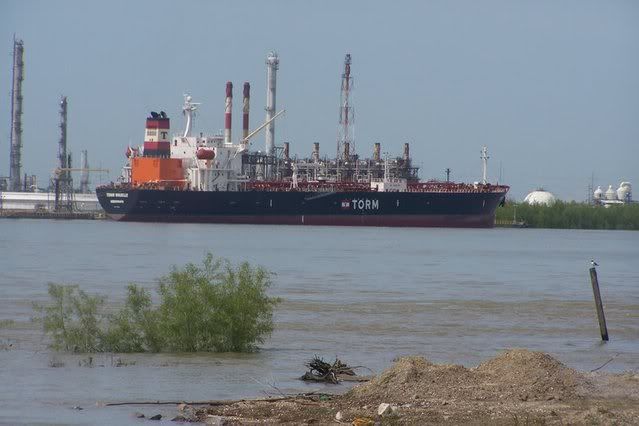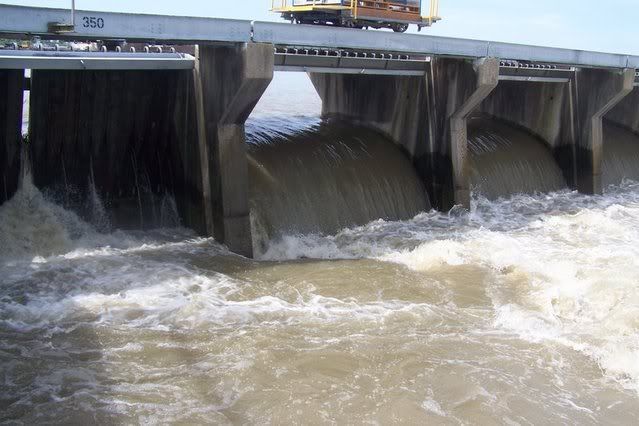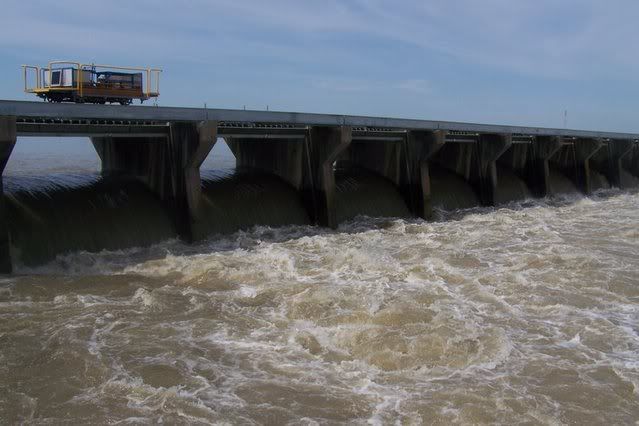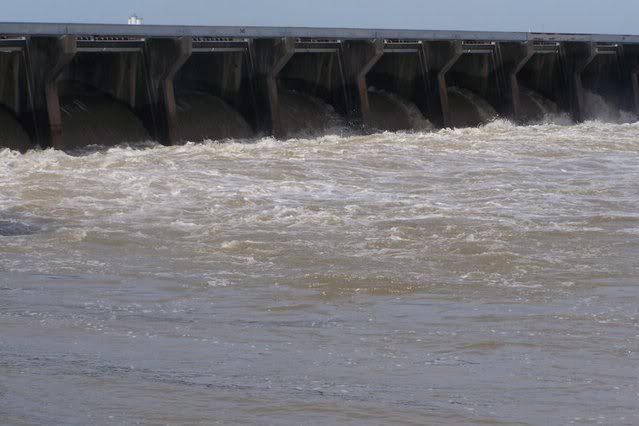 Went to the spillway today, this time w/my husband! On Friday, more bays were opened, for the river was cresting soon! I went out and took some more pictures. The first one is a ship that is right there on the river by the spillway. The 2nd on is taken of the bays open with the river water "rushing" thru. On top is a railway system with the "machine" that raises the boards to open the bays. The 3rd picture shows the railway. Picture 4 & 5 are just other shots at different angles.
Now, about that "run" in. On our way back, there were 2 ships docked at the Shell Oil refinery docks. You could clearly see how high the river was, for you could see the bottom of the ship, almost! I stopped on the levee side,per my husband's request, to take a picture. They were great pictures, honest! After I took the pictures, a woman came out and called to me. She was at the security gate across from the dock. I crossed the highway and went to the gate. I asked if I did something wrong and she told me security was on their way! OMG! SECURITY????? A man and a woman walked in and I said, "Did I do something wrong? Is it because I took pictures?" They said "YES!" By this time, my husband walked over. The security guy said it is a breach of Homeland Security, which in turns brings in the F.B.I.! I apologized profusely! I even said, I'd delete them, for I only took 2! Which, I did and the lady watched as I did. I sooooo wanted to laugh at the situation, but I knew it wasn't the time OR the place! My husband is a police officer and showed his credentials and the Security guy said they wouldn't process any forms, for it is a process! I thanked him, apologized AGAIN and said I would pass along to all my friends about not being able to take pictures, at least at THAT location. The funny thing is, THERE ARE NO SIGNS that say ANYTHING about No Trespassing, or Secure Area, etc. NOTHING! I mean, really, HOW was I TO KNOW? My son and daughter said, "I knew you'd get in trouble eventually with that camera!" Especially since this last week, I was a "Camera Fool" taking pictures everywhere with "Flat Malena" aka "Lilnut" on CKMB! I mean really, WHO KNEW!?"
I'm so glad I could laugh at this! I really have to watch myself though, because my husband IS a cop, and I wouldn't want to do anything to jeopardize his job in any way! I told you I'm not perfect! Blog ya later....